Big Brother Naija season 4 winner, Mercy Eke, has caused a stir online over the sultry way she and her female friend shared food at a restaurant.
The reality show star was out with some friends at a restaurant, when her female friend was fed with a piece of meat and decided to share it with Mercy while the meat was still in her mouth.
In the viral video, Mercy's friend pulled her face over to hers and she cut a piece of the meat in a sensual manner.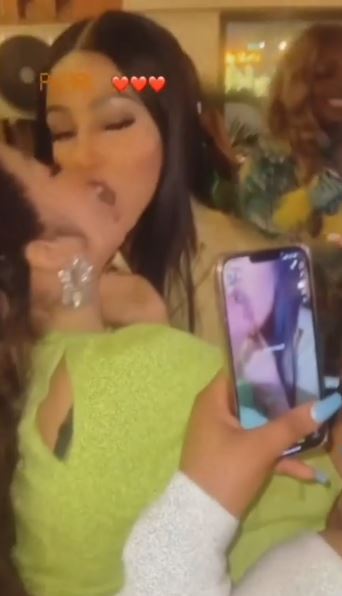 The video has gotten netizens buzzing on sociy media.
While some say it's normal for ladies to do that, others stated that men would be drag to filth if they did the same thing.
See some reactions below,
@katennaiji wrote, "It's only ladies that can get away with this. Imagine men doing same
"
@shuga_gal_brenda wrote, "I and my best friend do this every time
it's not that deep"
@tea_treats_cakesncrafts wrote, "Just imagine that it was two guys doing this??? Say taymesan and Eniola for example. The comment section will be different. All these ladies should stop this biko !"
@beatrice_tayui wrote, "Please its very very normal..what exactly is it you people think you've seen.. girls hug and are cuddly like this..people shouldn't read alot into this ..its not that deep"
@okocha7544 wrote, "I do that with my bestfriend also my sis there's nothing bad in it"
Watch the video below,